DIY Valentine's Day Photo Gifts and Ideas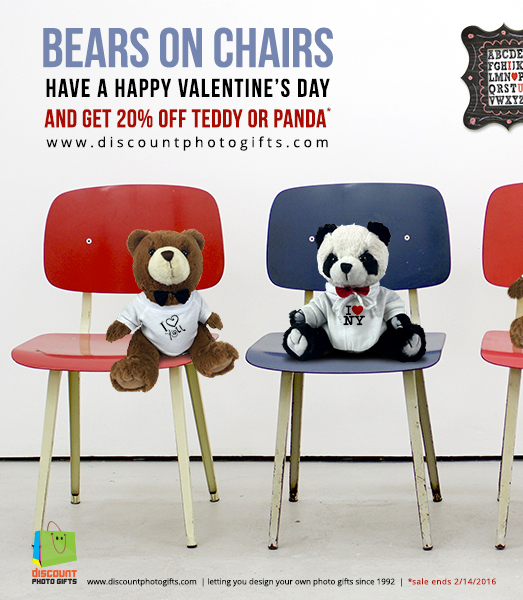 Did you know that you can custom design either a mini t-shirt or mini hoodie that fits on a 9″ tall plush teddy bear or panda bear? These guys are super cute, cuddly, and perfect for your valentine this year. If you have a treasured photo, you can use our online design wizard to scale, adjust, and even add text to it to make a complete custom design. Do it yourself? Absolutely! The design wizard is easy to use and you can create a masterpiece in a matter of minutes.
Fun Photo Gifts You Create
Love the bear stuffies. And if you really think about it there are so many options for the lovers out there to find a unique Valentine's photo gift for anyone. Choose one of your photos from the past holidays and add some text and you have a quality gift for someone special. Here's a short list of fun photo gifts you create:
Yeah, we're plugging our own photo gift products, it's true. We do that on a daily basis otherwise what's the point of being in business. But we truly stand behind what we do. We source all our products and the majority are produced in our production facility in Fremont, California. And when it comes to price and quality, we're the leader hands down. We've got ceramic photo mugs, phone cases you can fully customize with your photos, and totally unique items like our ceramic pet bowls, woven blankets, and even pet urns – yes, pet urns. So crazy, but tons of people want them.
So, you can try Zazzle, Shutterfly, or Walmart if you want. We'll be here. We'll leave the light on. (Just kidding.) Have a great 2016!