Instead of Politics | The Best Pet Rescue News in the Country
With millions of American citizens on the verge of losing their health care and the war is Afghanistan still going on since 2001, the news is packed with depressing articles about our world falling apart. While these are important things to keep in thought, once in a while we need a break from all this seriousness. Bring on the cool news. Pet news.
Hurricane Harvey and Irma came and left devastation in their respective wakes. Here we take a look at the special people and organizations who looked after the animals during this trying time.
Pet Stories After the Hurricane
Sali Gear Animal Rescue
Sali Gear, co-owns Island Dog Rescue in Virginia Beach, Virginia. The local nonprofit specializes in saving dogs from the U.S. Virgin Islands, Gear's birth place. According to an article in the Miami Herald, Gear had two days to devise a plan to move 300 animals to her farm in Virginia Beach before Hurricane Maria hit. She eventually chartered a plane and was able to secure the animals.
Once all the animals were safe at the farm, rescue groups and high school students mobilized to help Gear's mission by picking up most of the animals, volunteering to walk the dogs, and other ways to help make the animals comfortable. The efforts of Sali Gear and others exemplifies courage and passion for the often forgotten animal world. For further reading on this, please visit the Bustle.
Baseball Star and Wife Step Up for Animal Rescue
Most professional athletes live in a comfortable alternative world to the rest of us and it's great to hear about these multi-millionaire stars playing a different role especially with Animal Rescue. Max Scherzer is a professional baseball player with the Washington Nationals of Major League Baseball. Along with his wife, Erica May-Scherzer, have dedicated time to adopt dogs from animal shelters, but also they've committed to donate both their time and finances to the animal adoption cause . They have appeared in Public Service Announcements and also serve on the board of directors for the Humane Rescue Alliance in Washington, D.C.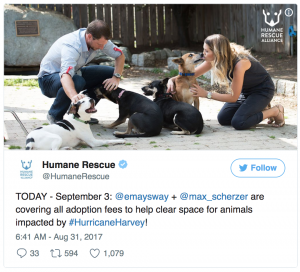 What they did in early September is make a generous gesture to cover all adoption fees during a fixed period of time in an effort that would prompt animal adoptions after Hurricane Harvey's aftermath that left many pets displaced. According to the article, adoption fees range from $85 to $200 depending on the animal's type and age. Read more about this great news at the Washington Post.
Free Animal Adoptions at Young-Williams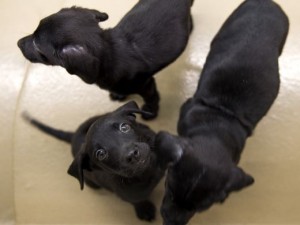 After Hurricanes Harvey and Irma left affected areas in disarray, the Young-Williams Animal Center in Knoxville, Tennessee, took in evacuated pets from other states and on September 23, 2017, the center will host free adoptions for all its post-hurricane pets. This includes dogs, cats, puppies, kittens and small mammals. As of Wednesday, the facilities two locations was caring for over 550 animals. Potential adopters need to get applications competed by 5 PM local time on Saturday and are accepted until 5:30 PM. For more information, call 865-215-6692.